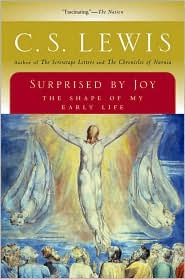 CS Lewis will go down as one of the most influential and important Christian figures in the 20th Century. I have been greatly impacted by his writings and have read many of his works. He has influenced the way I think, the things I believe, and how I live out my faith. CS Lewis was no stronger to doubt. In fact, it was doubt that led him away from his faith. But eventually, he could not doubt any longer.
Since CS Lewis was so influential in my life, and after reading some of his biographies, I decided to read his autobiography, "
Surprised By Joy: The Shape of My Early Life
." As the title suggests, this is not your typical autobiography. Rather it is a reflection on the things in his early life that has shaped him to be the person he became.
Lewis spends much time on his childhood. His mother died when he was young and he never fully recovered. He loved his dad, though his father always struggled over the death of his life. It was this time period that Lewis seems most concerned with. It is interesting how much ink he spills over how difficult it was attending some of the schools he attended. I remember telling myself, "modern psychologists who over analyze peoples childhoods would have field day with CS Lewis." But, nonetheless, Lewis did spend much time analyzing his childhood.
This was perhaps my least favorite part of the book. Though to him the years he spent under tyrannical rule of what we may call superintendents might be insignificant to us, it was nonetheless critical to Lewis, and so he spends several chapters dedicated to the subject.
I was most interested in his conversion. Lewis, from very early on, began to doubt the Christian faith he was taught as a child and continued this atheism for much of his early adulthood. But what made him seriously reconsider the Christian faith was a comment made by a fellow atheist. One of his friends told Lewis that despite their skepticism, there was a lot of credibility to the Gospels. They weren't are far fetched as they would like to believe.
And starting at that moment, Lewis began to reconsider his doubt. After sometime, Lewis would eventually convert to the faith he had long rejected.
And the rest, as they say, is history.
Overall, I enjoyed Lewis' work. However, for the reader that is new to the writings of CS Lewis, I would warn that they probably shouldn't begin here. This is an autobiography that should be reserved for those that love all things Lewis and have a sincere love for the man, his work, and his faith.
One of the reasons for this is that the things that Lewis finds interesting, the average person doesn't. Lewis loved Greek and Norse Mythology, most people couldn't care less. Throughout the book, Lewis makes references to stories found within mythology and how they relate to the topic at hand. Similarly, Lewis is fascinated with things that most overlook or couldn't care less. For this purpose, one might find Lewis boring at times.
Lewis anticipated this. This is why from the very beginning he tells the reader that once they have read a few pages, they will either like it or not. If they do not like what they have read so far, they should stop now for the rest of the book will be the same. I for one enjoyed the book and was grateful for continuing to read. So for the Lewis fans, I think you'll enjoy this intimate look into his life. For those who are not fans of Lewis, it would be best to read something else.