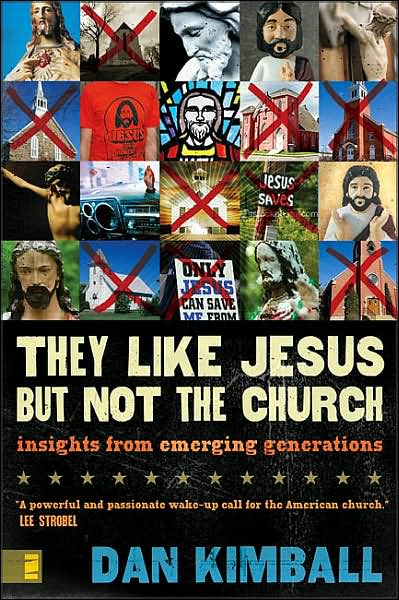 Dan Kimball
has noticed something in our culture: people
like Jesus a lot, but do not like what Christians have done with Him
. Therefore, Kimball argues, we must rethink who Jesus is and was and reevaluate how we are to treat Him, our doctrine, and our Church structure. As is typical among the Emerging Church, Kimball wants the Church to change it's approach to evangelism, ecclesialogy, theology, and cultural engagement.

What Kimball offers is not propositions, but suggestions, discussion, and stories. Throughout the book, Kimball gives the readers direct quotes from those who love Jesus, but hate the Church. They hate the Church because it is homophobic, too political, and the like. On a certain level, Kimball offers good advice. Shame on the Church for putting more emphasis on politics than on the gospel and being viewed as hating others, but at the same time we must not overlook cultural engagement just to get people to like us. Kimball does not call for us to ignore Scripture, but at the same time his postmodern assumptions leads him to overlook the hard parts of Scripture in an attempt to get the Church to be more attractive.
His approach to how the local church should operate is telling. Instead of a propositional sermon, our postmodern culture wants discussion. The problem with replacing the sermon with discussion, no sound doctrine will be espoused. It leaves mans depravity satisfied. Furthermore, our services should have more visuals with more entertainment than the traditional organ and hymn singing. Finally, postmoderns want stories, not absolutes. This is a theme throughout all of the Emerging Church and it creates the same problems as discussion instead of preaching does.

Kimball's goal is commendable, how can we reach our culture better? He sees the perception of the Church to be viewed in a negative light and wants to change it. However, his solutions are not Biblical and will inevitably lead to heretical liberalism. So, in this book, we see the same old problem with the Emerging Church, trying to satisfy the culture leads to redefining the Church and Scripture even though we may not intend to.